---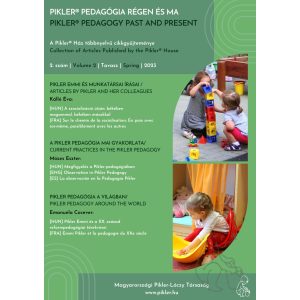 Digital, multi-language collection of articles published by the Pikler® House
2023/2.
Published quarterly, available as a pdf. Downloadable after purchase from your Profile page.
By purchasing this collection of articles, you support the activities of the Pikler® House. You can read more about our objectives on our Facebook page.
Contents:
1. Éva Kálló:
Sur le chemin de la socialisation; En paix avec soi-même, paisiblement avec les autres

in Hungarian and French

2. Eszter Mózes:
Observation in Pikler Pedagogy

in Hungarian, English and Spanish
3. Emanuela Cocever:
Emmi Pikler et la pedagogie du XXe siècle

in Hungarian and French

Reviews of the product
Be the first to review this product!